Jeremy Grantham: A Bullish Bear
Is Jeremy Grantham, co-founder and CIO of GMO, bullish or bearish these days?  According to Myles Udland at Business Insider, he's both.  He quotes Grantham:
"I think the global economy and the U.S. in particular will do better than the bears believe it will because they appear to underestimate the slow-burning but huge positive of much-reduced resource prices in the U.S. and the availability of capacity both in labor and machinery."
Udland continues:
"On top of all this is the decline in profit margins, which Grantham has called the "most mean-reverting series in finance," implying that the long period of elevated margins we've seen from American corporations is most certainly going to come an end. And soon. "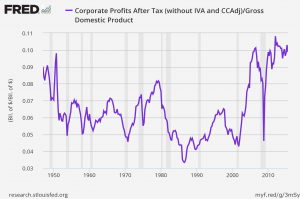 Corporate Profit Margins as a Leading Indicator
The claim is an interesting one.  It certainly looks as if corporate profit margins are mean-reverting and, possibly, predictive of recessionary periods. And there is an economic argument why this should be so, articulated by Grantham as quoted in an earlier Business Insider article by Sam Ro:
"Profit margins are probably the most mean-reverting series in finance, and if profit margins do not mean-revert, then something has gone badly wrong with capitalism.

If high profits do not attract competition, there is something wrong with the system and it is not functioning properly."
Thomson Research / Barclays Research's take on the same theme echoes Grantham:
"The link between profit margins and recessions is strong," Barclays' Jonathan Glionna writes in a new note to clients. "We analyze the link between profit margins and recessions for the last seven business cycles, dating back to 1973. The results are not encouraging for the economy or the market. In every period except one, a 0.6% decline in margins in 12 months coincided with a recession."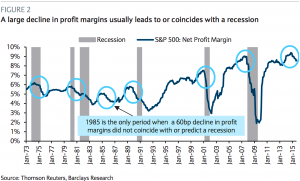 Buffett Weighs in
Even Warren Buffett gets in on the act (from 1999):
"In my opinion, you have to be wildly optimistic to believe that corporate profits as a percent of GDP can, for any sustained period, hold much above 6%."
With the Illuminati chorusing as one on the perils of elevated rates of corporate profits, one would be foolish to take a contrarian view, perhaps.  And yet, that claim of Grantham's ("probably the most mean-reverting series in finance") poses a challenge worthy of some analysis.  Let's take a look.
The Predictive Value of Corporate Profit Margins
First, let's reproduce the St Louis Fed chart:
A plot of the series autocorrelations strongly suggests that the series is not at all mean-reverting, but non-stationary, integrated order 1:
Next, we conduct an exhaustive evaluation of a wide range of time series models, including seasonal and non-seasonal ARIMA and GARCH:
The best fitting model (using the AIC criterion) is a simple ARMA(0,1,0) model, integrated order 1, as anticipated.  The series is apparently difference-stationary, with no mean-reversion characteristics at all.  Diagnostic tests indicate no significant patterning in the model residuals:
Using the model to forecast a range of possible values of the Corporate Profit to GDP ratio over the next 8 quarters suggests a very wide range, from as low as 6% to as high as 13%!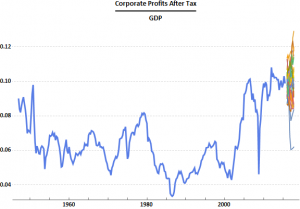 CONCLUSION
The opinion of investment celebrities like Grantham and Buffett to the contrary, there really isn't any evidence in the data to support the suggestion that corporate profit margins are mean reverting, even though common-sense economics suggests they should be.
The best-available econometric model produces a very wide range of forecasts of corporate profit rates over the next two years, some even higher than they are today.
If a recession is just around the corner,  corporate profit margins aren't going to call it for us.